Here is a sample of some of the services we affer at Ernest leng & Son Ltd.

Steel Open Farm Sheds
Our open-fronted farm buildings provide cost effective storage of machinery for a range of end users, particularly farmers or businesses who have invested in machinery and want it covered from the typical British weather!
For a competitive quote or to get further information please Contact Us.
Rollershutter doors – located to suit you
10-point locking high security steel access doors
Skylights and window options
Insulated or single skin plastisol-coated sheeting in a wide range of colours, including 4 different shades of green
Anti-condensation roofing sheets
Steel Stable Buildings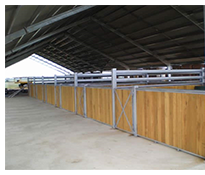 We are a supplier of steel buildings for horse arenas, stabling and tack rooms, providing our valued customers with a range of additional options and flexible sizes.
Rollershutter doors – located to suit you
10-point locking high security steel access doors
Skylights and window options
Insulated or single skin plastisol-coated sheeting in a wide range of colours, including 4 different shades of green
Anti-condensation roofing sheets
Yorkshire Boarding for walls
Steel Building Storage
Rollershutter doors – located to suit you
10-point locking high security steel access doors
Skylights and window options
Insulated or single skin plastisol-coated sheeting in a wide range of colours, including 4 different shades of green
Anti-condensation roofing sheets
Internal partition walls
Fire-rated sheeting and fire boarding
Mezzanine flooring